After a three week break it is good to be back at Speakers Corner. Hyde Park. London. The winter nights make for a shorter time with visitors and tourists but the die hards will continue to chat and debate under the portable lights that many regulars bring with them.
"One Way: Jesus! One Job: Evangelism!" ~ T.L. Osborn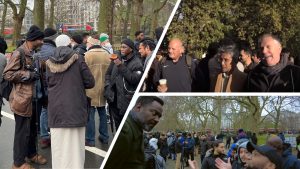 Speakers Corner in London's Hyde Park is the oldest free speech platform in the world. People won the right to speak in mass protests in the 1860s and early 1870s. Some people believe the tradition is connected to the right of the condemned to a last speech before being hung at the Tyburn gallows, a practice that stopped at the end of the 18th century. Every Sunday people from all sorts of convictions come to Hyde Park in the afternoon to spead their message or to have fun.