Archive for February, 2023
Key to Life is back in Hampshire in June, I am contacting schools this week to see if they will have it. Please pray for a good response.
Key to Life is a cutting-edge, mobile experience, sharing the story of Jesus through a unique and immersive lesson. Using floor-to-ceiling touch screens, children can watch films, interact with games and quizzes and take part in small group discussions – helping them explore what Christians believe, and understand how the story of Jesus is the key to Christianity.
Always encouraging to read Sermon Centrals weekly report, a reminder that the text of a sermon can be a blessing to others: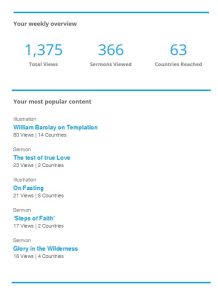 1,375 Total Views
366 Sermons Viewed
63 Countries Reached
Encouraging email from Cape Town, South Africa.
"We are currently doing a series on the book of Luke with our fellowship. I came across your notes and your offer to supply the Power Point that goes along with it. Please may I ask that you send it through to me. I really enjoyed your illustrations and the simple way you unpacked this passage and made it challenging to us today."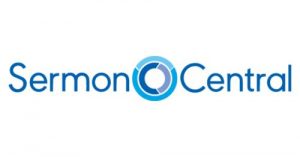 Sermon Central:
Equipping Pastors and Ministry leaders worldwide as they study, sermon prep, and share the Word. Website: Click Here
Morning:
Activity: Morning Service
Time: 10.30am
Venue: Charminster Chapel. Bournemouth. BH8 9SJ
Subject: 'Kipling's six honest men of Baptism'
Bible Passage: Matthew chapter 28 verses 19-20
Speaker: Gordon Curley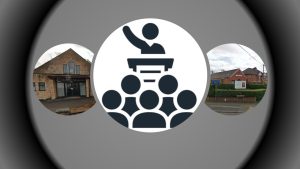 Evening:
Activity: Gospel Service
Time: 6.30am
Venue: Gospel Hall. Sandy Lane, Fair Oak, SO50 8EG
Speaker: Gordon Curley
Subject: 'The Gospel is Good News'
Bible Passage: Colossians 1 verses 1-12
DATE FOR THE DIARY:
Bob Pearce Blues Night
When: Tuesday 14th March 2023
Venue: Salterns Working Mens Club. SO31 9FY
Time: 8.00pm to 10.00pm
Activity: A night of good music from Bob & Steve
Guest Speaker: Colin Dyer will give a short talk on one of the Bible Psalms, – 'A song that has stood the test of time'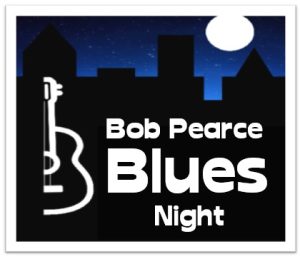 Note: More dates for the diary:
April 11th: Face to Face with Vij Sodera
May 9th: BBQ in the Woods with guest speaker Mike Mellor
'The Net'
'The Net' is usually held on the second Tuesday of the month from 8.00pm to 10.00pm.
It is an inter-church event for MEN.
Join us for a Counties Evening
Who: Anyone interested in evangelism!
When: March 6th 2023
(7.45pm refreshments. 8.00pm start – 9.00pm finish)
Where: Duncan Road Church Park Gate Southampton SO31 1BD (www.drchurch.info)
What: Share in what God has been doing through 'Counties' in Hampshire… Speakers Corner » Moldova » 'Noah's Ark' » 'The Net' » 'BodyBuilders' » Future plans!
Plus all the latest news from Gordon & Penny Curley
Youtube Livestream: CLICK HERE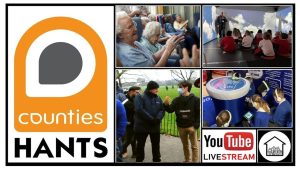 One-to-One Evangelism Hyde Park, speakers corner. London
"We Christians sometimes think we need a plan for evangelism. I don't think Jesus had an evangelism plan. I think He just interacted with the people He came into contact with." ~ Matt Diaz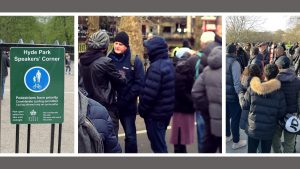 Speakers Corner in London's Hyde Park is the oldest free speech platform in the world. People won the right to speak in mass protests in the 1860s and early 1870s. Some people believe the tradition is connected to the right of the condemned to a last speech before being hung at the Tyburn gallows, a practice that stopped at the end of the 18th century. Every Sunday people from all sorts of convictions come to Hyde Park in the afternoon to spead their message or to have fun.
Final day at Space Academy Holiday Club.
Good to lead a great team of volunteers from Swanfield Chapel, Chichester! Five days of fun and madness and some more serious items in the programme as well!
51 children came during week with an average of 40 per day.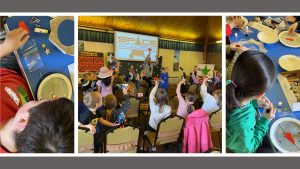 Two hours of fun, games, Bible stories, competitions, DVD's, songs and much more!
This year's theme was Space – great to learn some incredible facts on stars, the planets and link it all up to the story of Daniel!