Archive for the 'General News' Category
A quick and easy explanation of what the gospel (Good News) is.
Bible verse: John chapter 3 verse 16.
Graphics: The 4 Points.
Full audio message on John 3:16: Click Here
Each Thursday morning during lockdown a mini-version of Noah's Ark Toddlers and Babies group has been live on FaceBook, consisting of a song, a story and a craft.
Now you can find all the episodes together on Penny's
FB Noah's Ark TouTube channel:
Don't forget to Subscribe and to hit the like button!
Hi Folks,
Sadly, due to Covid19, Good News Camp will not be taking place in August.
Our Camp-site Lockerley Water Farm will not be opening this summer and therefore Good News Camp will not be taking place. The decision, made by the Hampshire Christian Trust, to keep the Camp-site closed is understandable as the requirements necessary to make the site Covid-19 compliant would be impractical for our type of camp. The temporary closure will also allow the Trust to make additional improvements to the site, ready for 2021.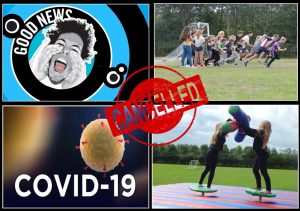 We had a great camp last year and we hope to back in action in 2021, these are the dates for your diaries – Sunday August 22nd to Friday August 27th 2021.
For those of you who have booked in & paid a deposit or all of your Camp fee, we will contact you and reimburse you ASAP.
Have a great summer and stay safe!
Join us in our weekly magazine show, as our presenters Tim C Cracknell and Aderyn Taylor-Roberts look at the theme of rest. We also speak with evangelists Kim Hobbs, PENNY CURLEY and Charissa Cooke about how they find balance in their busy lives.
Great to be able to produce some online assemblies that schools can use!
Senior School Assembly – Prejudice (June 2020)
Junior School Assembly – Prejudice (June 2020)
Senior School Assembly – Happiness (May 2020)
Junior School Assembly – Happiness (May 2020)
For your free copy, email office@countiesuk.org or view an online version Click here:
Sermon Central is a website that is equipping Pastors and Ministry leaders worldwide as they study, sermon prep, and share the Word of God.
I have uploaded text versions of my sermons to this site for a number of years and it is always encouraging to know that people are finding them helpful.
This weeks report below – Total Views: 1,952 / Sermons Viewed: 370 / Countries Reached: 75