Archive for the 'General News' Category
Looking forward to sharing God's Word in four Bible teaching sessions with folks from Upminster Baptist Church and Cranham Baptist Church on their Weekend Away

High Leigh Conference Centre. Hoddeston. Herts. EN11 8SG
Very similar day to yesterday – Preaching in a OAP home/hospital! Market Outreach & two home meetings— in Soldanesti.
My team partner John writes:
"We met a man named sergiu and a lady named Angela at the market place Thursday morning. We spoke to sergiu first he was sat on his own outside a bar .. he wanted to know more about Christ..as we spoke we could tell that he was touched and wanted to pray with us and place his faith in Jesus Christ.
We then met Angela who owned a dress stall and the same happened ….
Later that day the pastor picked a friend up as we travelled to another home group and on the way he asked why we were here so we gave him good news and he also asked for Jesus….
When we arrived at our last home group we sat down and you would never guess who walked into the room!!!
7000 people live in the town, and approx 400 people live in the flats and Angela the lady from the market stall walked in…
We nearly fell on the floor …
We had a great meeting and all the family said they would come to church, God's amazing…"
After a two hour drive across very wet muddy and bumpy roads/tracks in an old minibus, we arrived in the village of Olanesti, Moldova. It was good to be dropped in at the deep end, just me and my translator for my first Moldavian house meetings!
It was great to see believers invite their neighbours into their small homes to hear the gospel, for some the very first clear gospel message they will have heard! It was a real thrill to see people coming to faith in Christ after hearing the gospel preached!
The other team members were also holding house meetings and they too saw folks accepting Christ as their saviour.
House Meetings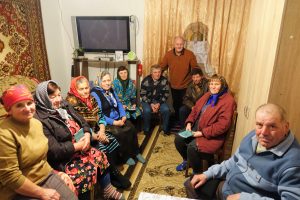 Team Meeting
Evangelists and translators enjoying a lunch provided by the local believers.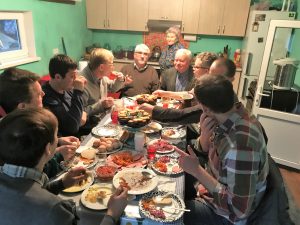 Good opportunities to get used to working with a translator (first time for 2 years), only a couple of slight hiccups otherwise we flowed in our presentation. Keep praying!
Tomorrow the team of 8 is divided up into pairs and we head off into the central regions of Moldova to take meetings in homes.
The Moldovan Christians have been praying and will have invited people into their homes to hear the gospel.
Please pray that God will give each speaker the right message to share.
Despite EU integration attempts in recent years, Moldova continues to be the poorest country in Europe, crippled by a high level of corruption, political instability and a failing economy. The extreme poverty, especially in rural areas, aggravates related problems like a high rate of alcoholism and an exodus of the working population to other countries, while children and elderly are left behind. However, this situation also creates many ministry opportunities, especially in the area of relief & development.
I have been invited to be involved in gospel preaching, this outreach is carried out in partnership with local Moldovan Churches, encouraging them in evangelism as they reach out to their friends, family members and neighbours with the gospel.
Please pray for:
For the preaching of God's word, that many people will understand and respond.
For safety in travel.
For a good understanding and working relationship with my translator.
For Mark McCormick (Mission organiser) and the other team members who are also involved in reaching the Central Regions of Moldova.
The Approximate schedule for each mission is as follows:
Saturday – arrive in Moldova – possible outreaches in evening for some of us
Sunday am preach in local churches to get culturally orientated – maybe 2 to a church
pm in some cases we go out to preach the gospel in homes i.e. outreach missions starts
Monday – Saturday breakfast 8.0-9.0 Team time and feedback 9.00-10.00
Preaching in groups – on average 4 per day per evangelists 11.00-21.00
+/- preaching in schools or hospitals or clinics etc
Sunday Preaching outreach missions in churches – possibly evangelists will double up
Monday debrief – final meal together
Tuesday – off home.
Always encouraging to receive emails like this one:
"My name is 'R' and I'm from Australia, I came across your sermon on SermonCentral "Encountering God, Experiencing Change" Isaiah 6:1-12
I have been blessed beyond words. Thank you for a such inspired sermon, God bless brother."