Archive for the 'General News' Category
Each Thursday morning during lockdown a mini-version of Noah's Ark Toddlers and Babies group has been live on FaceBook, consisting of a song, a story and a craft.
Now you can find all the episodes together on Penny's
FB Noah's Ark TouTube channel:
Don't forget to Subscribe and to hit the like button!
Hi Folks,
Sadly, due to Covid19, Good News Camp will not be taking place in August.
Our Camp-site Lockerley Water Farm will not be opening this summer and therefore Good News Camp will not be taking place. The decision, made by the Hampshire Christian Trust, to keep the Camp-site closed is understandable as the requirements necessary to make the site Covid-19 compliant would be impractical for our type of camp. The temporary closure will also allow the Trust to make additional improvements to the site, ready for 2021.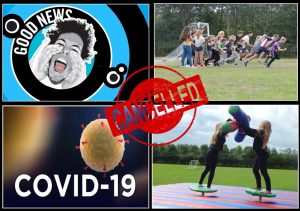 We had a great camp last year and we hope to back in action in 2021, these are the dates for your diaries – Sunday August 22nd to Friday August 27th 2021.
For those of you who have booked in & paid a deposit or all of your Camp fee, we will contact you and reimburse you ASAP.
Have a great summer and stay safe!
Join us in our weekly magazine show, as our presenters Tim C Cracknell and Aderyn Taylor-Roberts look at the theme of rest. We also speak with evangelists Kim Hobbs, PENNY CURLEY and Charissa Cooke about how they find balance in their busy lives.
Great to be able to produce some online assemblies that schools can use!
Senior School Assembly – Prejudice (June 2020)
Junior School Assembly – Prejudice (June 2020)
Senior School Assembly – Happiness (May 2020)
Junior School Assembly – Happiness (May 2020)
For your free copy, email office@countiesuk.org or view an online version Click here:
Sermon Central is a website that is equipping Pastors and Ministry leaders worldwide as they study, sermon prep, and share the Word of God.
I have uploaded text versions of my sermons to this site for a number of years and it is always encouraging to know that people are finding them helpful.
This weeks report below – Total Views: 1,952 / Sermons Viewed: 370 / Countries Reached: 75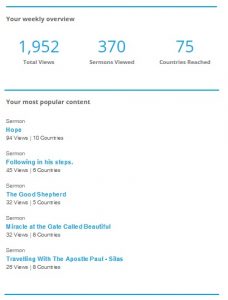 Quote: – Tim Keller.
"If Jesus rose from the dead, then you have to accept all that he said; if he didn't rise from the dead, then why worry about any of what he said? The issue on which everything hangs is not whether or not you like his teaching but whether or not he rose from the dead."
The resurrection of Jesus Christ is central to the Christian faith. It is mentioned over one hundred times in the New Testament. It was the main point for each sermon in the Book of Acts. Without it there is no Christian faith.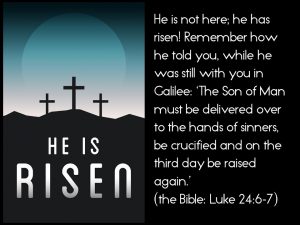 Here are five reasons why we should take the resurrection seriously.
1. Jesus was the first of the resurrection
The Jews believed in the resurrection but believed it would happen at the end of the world. It would be a resurrection of all God's people. What happened to Jesus was not just a return to life. It was not a resuscitation such as what happened to Lazarus. The resurrection of Jesus was the first event in the general resurrection and was the sign that the end had begun.
2. The resurrection supports Jesus' claims
Anyone can claim to be a messiah. Anyone can claim to be a son of God. The fact that Jesus claimed such things was not all that amazing. But the resurrection shines a whole new light on those claims. If Jesus was lying about the Son of God, why would God raise him from the dead?
3. The resurrection clarifies the cross
What happened on the cross? Jesus' death was the atonement so that we do not have to pay for our sins. But how do we know that? Thousands of people were executed on crosses and there was no reason to believe that anything other than a painful death was going on. The resurrection helps us to understand that the cross a much bigger event. If it was not for the resurrection, we would not know about the atonement.
4. The resurrection is our hope
As mentioned before, the resurrection was not just for Jesus but for all of God's people. If the cross is victory over sin, the empty tomb is victory over death. What will happen to us after death? When Jesus returns, we will be resurrected. How do we know this is true? Jesus has already been raised. What kind of body will we have? One just like Jesus.
5. The resurrection explains suffering
We do not have to look far to see suffering. It is in our world, in our community, in our life. Why does God allow this? Where is God when there is pain? It is at these times that we need to look at what happened to Jesus. All the questions we ask about pain could have been asked of Jesus on the cross. Jesus felt God-forsaken but he endured because the resurrection was just over the horizon. How do we endure? Same reason. We long for the resurrection, but like Jesus, we only get there through the cross. The cross and resurrection is the lens through which we must look at all suffering.
"He is not here; he has risen! Remember how he told you, while he was still with you in Galilee: 'The Son of Man must be delivered over to the hands of sinners, be crucified and on the third day be raised again.'"
(The Bible: Luke 24:6-7)
Good Friday – God's Friday!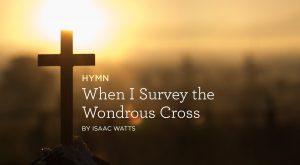 When I survey the wondrous cross
On which the Prince of glory died,
My richest gain I count but loss,
And pour contempt on all my pride.
Forbid it, Lord, that I should boast,
Save in the death of Christ my God!
All the vain things that charm me most,
I sacrifice them to His blood.
See from His head, His hands, His feet,
Sorrow and love flow mingled down!
Did e'er such love and sorrow meet,
Or thorns compose so rich a crown?
His dying crimson, like a robe,
Spreads o'er His body on the tree;
Then I am dead to all the globe,
And all the globe is dead to me.
Were the whole realm of nature mine,
That were a present far too small;
Love so amazing, so divine,
Demands my soul, my life, my all.
(written by Isaac Watts, and published in Hymns and Spiritual Songs in 1707)