Dates: February Monday 19th to Friday 23rd 2018
Venue: St. Paul's Barnes Lane, Sarisbury Green SO31 7BG
Dates: July Monday 2nd to Friday 6th 2018
Venue: Lockerley Water Farm, East Tytherley Road, Lockerley. SO51 0LW
'The LIFE Expo' is an inter-active exhibition about the life and impact of Jesus Christ.
On it's last visit to Hants, Nearly 600 hundred primary school children from local schools visited the exhibition during the week.
During the evening, the exhibition, a multi-media experience was also open to the general public.
The interactive exhibition also includes DVD and music clips, and visitors use tablet technology to move through the exhibition.
National LIFE Exhibition Co-ordinator, Martin Buckley, said "The purpose of the exhibition is to give people an opportunity to think for themselves about the real Jesus Christ".
The LIFE Exhibition is an educational experience with active learning opportunities. Using ipod tablet technology, with text, graphics, DVD and sound, the exhibition is a 'hands on' interactive learning experience.
The 'LIFE Expo' is divided into four distinct areas.
An introduction, which includes a short talk and DVD.
The 'Zones'; in which panelled areas present the historic roots, teachings, miracles, death & resurrection of Jesus. Children interact using an ipod tablet in these areas.
"Life Café'. This gives an opportunity to summarise and bring a final challenge about what the children have seen, while they are enjoying a drink and biscuit.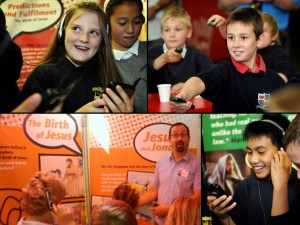 Below are comments taken from the visitors book on its last visit to Hants:
"Thoroughly enjoyable, informative and superbly organised. the children were transfixed, learned a lot and use of technology and different zones provided an excellent learning experience. Thank you!"
Andrea Marsh (Titchfield Primary School)
"This was an amazing experience! The 3 zones kept the children interested and on-task. The staff were fantastic and the children listened intently. The use of tablets and videos was genius in providing a memorable experience! Thank you very much!"
Nicki Beacher (Titchfield Primary School)
"A well organised and fun morning. The children loved it and were very engaged. Thank you!"
F. Ross (Whiteley Primary School)
"An excellent experience for the children that will provide a great start to our R.E. topic.
(Whiteley Primary School)
"A truly engaging experience! The children enjoyed all the activities (the use of technology is a winner)
this can now be followed up in school – thank you"
Kay Farlow (Whiteley Primary School)
"Very well organised. Good use of technology, children engaged and interested. Positive reaction from children. Thank you"
M.Marsh (Park Gate Primary School)


"Really informative and engaging, children really learned a lot and the follow up will be useful for next steps. Thank you!"
H. Chivers (Park Gate Primary School)


"The children were fully engaged in all the zones. they particularly enjoyed the music on the tablets. Already they are sharing ideas and questions that are related to what they have seen and heard"
Lisa Wood (St John the Baptist Primary School)


"Excellent organisation and really engaging in all zones. The children loved using the tablets to learn from, answer questions and listen to the music. We looked at parables before half-term so this has linked to that too! Thank you!"
Kay Austin (St John the Baptist Primary School)


"Thank you for providing this experience. The use of technology was very effective at engaging the children and the messages were very clear"
Paul Johnson (Hook-with-Warsash Primary School)


"The children were very engaged during all of the activities or zones.
This has been a wonderful opportunity which I'm sure will stimulate discussion this afternoon! The use of technology captivated the children and was accessible for our EAL pupils also."
E. Ransley. (Hook-with-Warsash Primary School)


"This is a fantastic exhibition providing children with a great opportunity to explore the truths of the Christian faith. we appreciate the effort and time that all the volunteers have given. well done to all".
S. Munsie (Sarisbury Green Junior School)


"Superbly organised and gave the children a great deal to reflect on and think about. Thank you to all involved".
A. Stockton (Sarisbury Green Junior School)


"Fantastic opportunity for children to explore who Jesus was and begin to think for themselves. The children loved all the interactive media and seemed to learn a lot".
Dan Richards (Sarisbury Green Junior School)


"What a wonderful exhibition where children can interact with the stories and life of Jesus.
"It's really good because you learn a lot about God and Jesus and why Jesus is remembered. The red zone was my favourite!" Maddy Smith 6PB."
Philippa Bass (Sarisbury Green Junior School)


"A great afternoon for all the children. They were engaged and learnt a lot about the life and works of Jesus. Really engaged through technology they could so easily relate to. Fantastic team too."
Amy Chaplin (Sarisbury Green Junior School)