Archive for the 'Free Resources' Category
Another great edition of Ignite magazine, Rob Nicholas shares his journey of finding faith, "From avowed atheist to believer," & catch the Curley's on pages 13-15 talking about, "Living by Faith."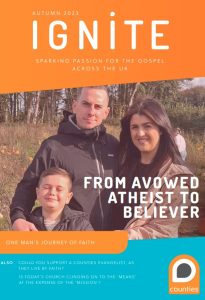 INSIDE THIS ISSUE
page 6-7 MEMO charity – run by Counties Evangelist, Matt Rich – with three Counties personnel on the Trustees Board – thanks God for amazing witness on social media.
page 8-11 From avowed Atheist to believer, Rob Nicholas, who lives in Ely, Cardiff, shares his journey of finding faith.
page 12-15 Could you support a Counties Evangelist? Ignite's Editor, Rachel Rounds, finds out why it's needed.
page 16-19 As Counties continues to encourage churches to join Counties Planting Network, a UK delegation joined the M4 Europe National Leaders Gathering in Norway. James Hyde was there.
page 2O-21 As a foretaste of Counties Connect Conference in October, nearly 250 worshipers gathered for a celebration of 'Being in God's Presence'. Counties Evangelist, Tim Cracknell shares.
page 22-25 Why I hope to see you at Counties Connect Conference 23 – a message from Martin Erwin.
page 26-29 "Is today's church clinging on to the 'means' at the expense of the 'mission' and losing its vision as a result?" Asks Counties Regional Connector, Simon Ladd.
page 3O-33 Counties Trainees have been putting theory into practice as they partnered with K180 for the 'Big 3 Mission' in Devon – where they reached out to young people with Good News. Rachel Rounds reports.
page 34 Just a Minute with Clive Cornish.
IGNITE Counties Magazine Summer 2023.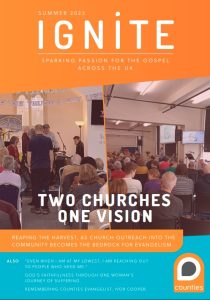 INSIDE THIS ISSUE
pages 6-7 Ignite remembers the life of Counties Evangelist, Ivor Cooper
pages 8-15 Two churches – one vision. Church outreach into the community is the priority for growth.
pages 16-17 After a childhood plagued by hardship, Counties Evangelist, Lee Marshland, is using his testimony to reach those whose lives are in chaos.
pages 18-19 "In your lowest point, God uses your bad situation to help somebody else who is going through theirs. Had I not had cancer I would not have had
the chance to meet the people I am now." Colleen Rhoden evangelises with Lee Marsland at Encounters Ministries.

pages 2O-21 Counties Evangelist, Mark Bingham, hopes a new group for families with children with specialist needs will spread the Good News and inspire
churches to think creatively.
pages 22-25 Could your church use a health check? The Church Revitalisation Project is already helping churches change for the better.
pages 26-27 Having taken part in One2Lead weekend in Cornwall in 2022, Peter Allin has spent this last year on the One2Lead TEAM programme.
pages 28-31 Senior Evangelist, Roger Chilvers, examines what the early church can teach us about evangelistic opportunities.
pages 32-33 Counties Evangelist, Paul Willmott, talks about his role in the Christian 'Together Festival 23'.

pages 34 Just a Minute with John Hardwick

Hot off the press is the Counties Ignite magazine (paper copies available on request).
Great article on Ivor Cooper (page 18), as he shares his personal journey with cancer
and what it has taught him in his walk with God, particularly in
discovering that his identity is not based on what he can do for
God.
CLICK HERE