Archive for November, 2015
Mary & Elizabeth's Joy – Luke chapter 1 verses 39-56 – sermon by Gordon Curley
PowerPoint slides to accompany this talk are available on request – email: gcurley@gcurley.info
Video/song to accompany sermon: CeeLo Green – "Mary Did You Know" [The Bible Clip]
The Church in Prayer – Acts chapter 4 verses 23-31 – sermon by Gordon Curley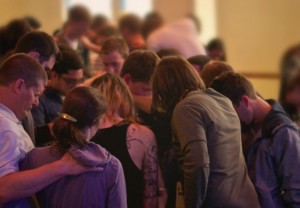 PowerPoint slides to accompany this talk are available on request – email: gcurley@gcurley.info
A talk for a Christmas Assembly By: Ali Campbell | Nov 2015
Click here to view or download.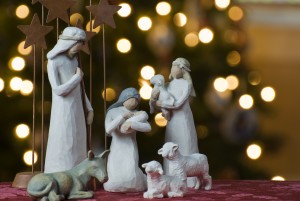 Counties Schools Work Manual –
An extensive guide to help Christians visiting schools across the UK.
Includes advice about:
•running RE classes and training days
•school governing
•taking assemblies
•pastoral support
•running Christian Unions
•plus much more!
Click here to download your manual.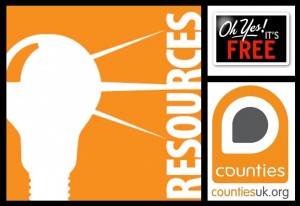 'The LIFE Expo' is an inter-active exhibition about the life and impact of Jesus Christ and recently visited St John The Baptist Church, Locks Heath. Southampton. Hants.
Nearly 600 hundred primary school children from local schools (Park Gate Primary School. Tichfield Primary School. Whitley Primary School. Hook with Warsash COE Primary School, St John the Baptist COF Primary School & Sarisbury Junior School) visited the exhibition during the week.
During the evening, the exhibition, a multi-media experience was also open to the general public.
The LIFE' Expo was an inter-Church project run by the Western Wards Church Network. It was great to have Christians representing seven different Churches working together to make the project happen.
Love & Respect – Ephesians chapter 5 verses 21-33 – sermon by Gordon Curley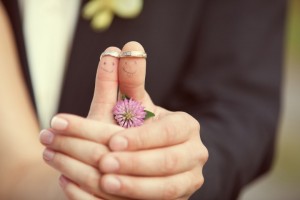 PowerPoint slides to accompany this talk are available on request – email: gcurley@gcurley.info
Just under 600 children through the LIFE Expo this week – exhausting but fun!
Great to finish off with 5 classes (150 kids) from Sarisbury Green Junior School.
Just this evening to go and it's bye, bye LIFE Expo until it returns in the summer.
LIFE Expo website: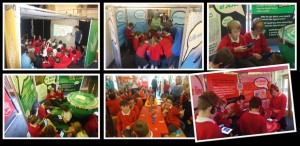 Full on day today at the LIFE Expo – 5 classes of up to 30 children kept the team busy – encouraging comments from the teachers in the Visitors Book.
(apologies for blurred faces – school requirement – but at least the photos give you a flavour of what we are up to).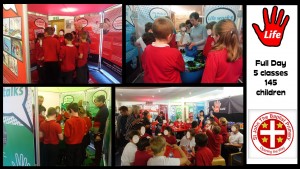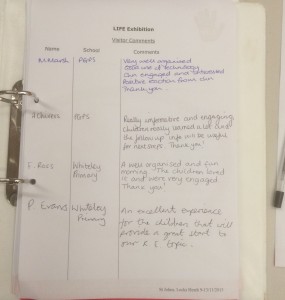 It is hosted by St. John's Church, Locks Heath, Southampton, Hants. It is an inter-Church project run by the Western Wards Church Network