FirstServe is a gap year programme designed to give young adults (18-25) a taste of service in the UK and overseas. Not only will they have the chance to help, support and encourage others but 'FirstServe' (www.first-serve.org.uk ) also includes a discipleship and missions training programme.
Gordon is part of the steering group and believes that it is a valuable investment of his time.
Please pray for 4 young people who started their FirstServe Gap Year last week. They are currently at the GLO Centre for 2 weeks, then they will move on to their UK church placement. Please pray that this year will be a time for them to draw closer to God and that wherever they are on placement, both in the UK and overseas, God will use them for His glory.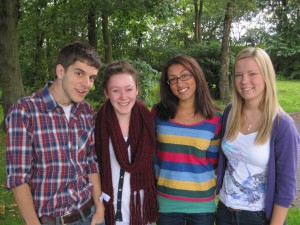 New recruits to FirstServe – Jan, Seren, Deborah and Nicole from Germany, Aberdeen, London and Northern Ireland
Check out Nicole's blog: http://nicolefinlayson92.wordpress.com