Another great edition of Ignite magazine, Rob Nicholas shares his journey of finding faith, "From avowed atheist to believer," & catch the Curley's on pages 13-15 talking about, "Living by Faith."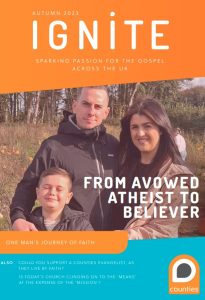 INSIDE THIS ISSUE
page 6-7 MEMO charity – run by Counties Evangelist, Matt Rich – with three Counties personnel on the Trustees Board – thanks God for amazing witness on social media.
page 8-11 From avowed Atheist to believer, Rob Nicholas, who lives in Ely, Cardiff, shares his journey of finding faith.
page 12-15 Could you support a Counties Evangelist? Ignite's Editor, Rachel Rounds, finds out why it's needed.
page 16-19 As Counties continues to encourage churches to join Counties Planting Network, a UK delegation joined the M4 Europe National Leaders Gathering in Norway. James Hyde was there.
page 2O-21 As a foretaste of Counties Connect Conference in October, nearly 250 worshipers gathered for a celebration of 'Being in God's Presence'. Counties Evangelist, Tim Cracknell shares.
page 22-25 Why I hope to see you at Counties Connect Conference 23 – a message from Martin Erwin.
page 26-29 "Is today's church clinging on to the 'means' at the expense of the 'mission' and losing its vision as a result?" Asks Counties Regional Connector, Simon Ladd.
page 3O-33 Counties Trainees have been putting theory into practice as they partnered with K180 for the 'Big 3 Mission' in Devon – where they reached out to young people with Good News. Rachel Rounds reports.
page 34 Just a Minute with Clive Cornish.
So many prayers answered regarding this years Camp! Keep on praying that the good seed sown will produce much fruit!
Good News Camp (Sunday August 20th to Friday August 25th 2023) is up & running!
It's gonna be a good one!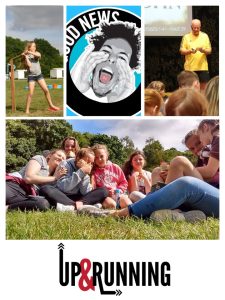 We ask prayer for:
Unity & balance in the team – we have a variety of helpers with different backgrounds and experience– pray that we will all complement each other in our various roles.
For Gordon as he prepares & shares talks from Mark's gospel.
For Moose, Naomi & Penny the Leadership Team.
For a good time spiritually – that the week will be marked with conversions and spiritual growth.
Health & safety – accidents do happen – pray with us that any accident/health issue will be insignificant and handled well!
Evangelism @ Speakers Corner. Hyde park. London.
"The simplicity of the gospel gives what the complexity of human wisdom promises but never delivers. " – John MacArthur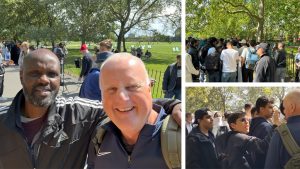 Speakers Corner in London's Hyde Park is the oldest free speech platform in the world. People won the right to speak in mass protests in the 1860s and early 1870s. Some people believe the tradition is connected to the right of the condemned to a last speech before being hung at the Tyburn gallows, a practice that stopped at the end of the 18th century. Every Sunday people from all sorts of convictions come to Hyde Park in the afternoon to spead their message or to have fun.