Another great edition of Ignite magazine, Rob Nicholas shares his journey of finding faith, "From avowed atheist to believer," & catch the Curley's on pages 13-15 talking about, "Living by Faith."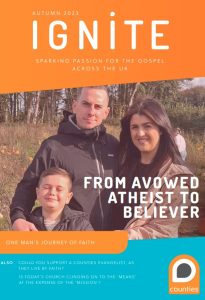 INSIDE THIS ISSUE
page 6-7 MEMO charity – run by Counties Evangelist, Matt Rich – with three Counties personnel on the Trustees Board – thanks God for amazing witness on social media.
page 8-11 From avowed Atheist to believer, Rob Nicholas, who lives in Ely, Cardiff, shares his journey of finding faith.
page 12-15 Could you support a Counties Evangelist? Ignite's Editor, Rachel Rounds, finds out why it's needed.
page 16-19 As Counties continues to encourage churches to join Counties Planting Network, a UK delegation joined the M4 Europe National Leaders Gathering in Norway. James Hyde was there.
page 2O-21 As a foretaste of Counties Connect Conference in October, nearly 250 worshipers gathered for a celebration of 'Being in God's Presence'. Counties Evangelist, Tim Cracknell shares.
page 22-25 Why I hope to see you at Counties Connect Conference 23 – a message from Martin Erwin.
page 26-29 "Is today's church clinging on to the 'means' at the expense of the 'mission' and losing its vision as a result?" Asks Counties Regional Connector, Simon Ladd.
page 3O-33 Counties Trainees have been putting theory into practice as they partnered with K180 for the 'Big 3 Mission' in Devon – where they reached out to young people with Good News. Rachel Rounds reports.
page 34 Just a Minute with Clive Cornish.