GSUS LIVE is at Crofton School Stubbington Hants.
Quote: Venue 1 Day 1:
"Today went brilliantly well, thanks – even 33 "extras" who came through at lunchtime, since it was advertised throughout the school"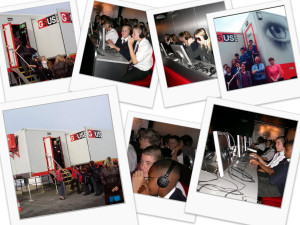 Crofton School. Stubbington.
Tuesday September 2nd to Friday September 5th 2014.
School (we are still waiting for confirmation)
Monday September 8th to Friday September 12th 2014.
Brookfield Community School. Southampton
Monday September 15th to Friday September 19th 2014.
Oasis Academy Lord's Hill. Southampton
Monday September 22nd to Friday September 26th 2014.
Brune Park Community School, Gosport
Monday September 29th to Friday October 3rd 2014.
Bishop Luffa School. Chichester
Monday October 6th to Friday October 10th 2014.
Oasis Academy Mayfield. Southampton.
Monday October 13th to Friday October 17th 2014.
Perins School. Alresford
Monday October 20th to Friday October 24th 2014.