The word "Advent" comes from the Latin word "adventus", which means "coming" or "visit."
During Advent, Christians emphasize Hope, Peace, Love & Joy., which God sent with Christ.
This series of talks looks at four benedictions (Latin: bene, well + dicere, to speak) that also highlight these themes.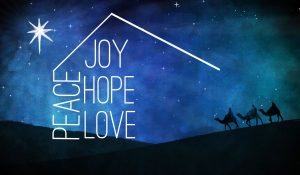 Session 1: HOPE – Romans chapter 15 verse 13 – sermon by Gordon
Session 2: PEACE – Hebrews chapter 13 verses 20-21 – sermon by Gordon Curley
Session 3: LOVE – 2 Corinthians chapter 13 verse 14 – sermon by Gordon Curley
Session 4: JOY – Jude verses 24-25 – sermon by Gordon Curley
Looking forward to sharing God's Word in four Bible teaching sessions with folks from Upminster Baptist Church and Cranham Baptist Church on their Weekend Away

High Leigh Conference Centre. Hoddeston. Herts. EN11 8SG
Following Jesus! Luke chapter 9 verse 27 sermon by Gordon Curley & Moldovan/Romanian translation by Igor Rascovschi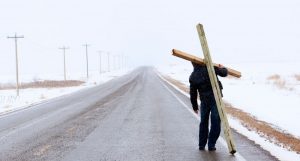 PowerPoint slides (in English) to accompany this talk are available on request – email: gcurley@gcurley.info
Very similar day to yesterday – Preaching in a OAP home/hospital! Market Outreach & two home meetings— in Soldanesti.
My team partner John writes:
"We met a man named sergiu and a lady named Angela at the market place Thursday morning. We spoke to sergiu first he was sat on his own outside a bar .. he wanted to know more about Christ..as we spoke we could tell that he was touched and wanted to pray with us and place his faith in Jesus Christ.
We then met Angela who owned a dress stall and the same happened ….
Later that day the pastor picked a friend up as we travelled to another home group and on the way he asked why we were here so we gave him good news and he also asked for Jesus….
When we arrived at our last home group we sat down and you would never guess who walked into the room!!!
7000 people live in the town, and approx 400 people live in the flats and Angela the lady from the market stall walked in…
We nearly fell on the floor …
We had a great meeting and all the family said they would come to church, God's amazing…"
After a two hour drive across very wet muddy and bumpy roads/tracks in an old minibus, we arrived in the village of Olanesti, Moldova. It was good to be dropped in at the deep end, just me and my translator for my first Moldavian house meetings!
It was great to see believers invite their neighbours into their small homes to hear the gospel, for some the very first clear gospel message they will have heard! It was a real thrill to see people coming to faith in Christ after hearing the gospel preached!
The other team members were also holding house meetings and they too saw folks accepting Christ as their saviour.
House Meetings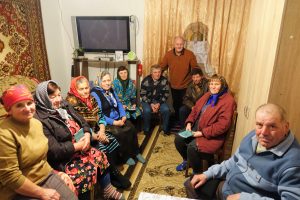 Team Meeting
Evangelists and translators enjoying a lunch provided by the local believers.