Archive for October, 2021
Moldova flight booked, ready for our 8 days of mission and 2 days of travel.
We expect the mission week to be varied, chaotic and full of surprises as it has been on previous visits. This time the team will be in the North of the
country where we will preach in Russian speaking Churches on the Sunday's and then in homes throughout the week. We will have up to six home meetings per day, each lasting about two hours. Please pray for our preparation, both of ourselves and the messages we will preach.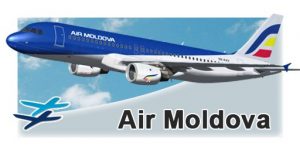 Bob Telford (Warwickshire) and David Brown (West Midlands) from Counties and Mike Wyatt (Leamington Spa) will also be on the team.
Our remit is to help people come to faith in Jesus Christ through gospel preaching with the local Pastors following up on responses.
What: Counties Evening
Who: Anyone interested in evangelism!
When: Monday November 15th 2021 (7.45pm refreshments or 8.00pm start)
Where: Duncan Road Church Park Gate Southampton SO31 1BD (www.drchurch.info)
YouTube Link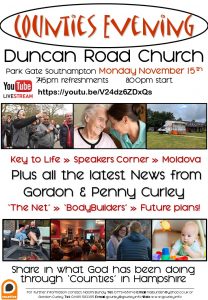 Share in what God has been doing through 'Counties' in Hampshire… Key to Life » Moldova » 'Noah's Ark' » 'The Net' » 'BodyBuilders' » Future plans! Plus all the latest news from Gordon & Penny Curley
A weekend away at the 'Living the Passion' Conference!
A chance to catch up with some good friends and enjoy a weekend full of conference activity!
LTP conferences are organised jointly by Counties, GLO, Church Growth Trust, Church Planting Initiative, Echoes International, and Partnership. They aim to bring together people from our churches for inspiration, encouragement, and fellowship. Conferences are held nationally and regionally every few years with hundreds of people from across the country benefitting from quality Bible teaching, workshops, worship, prayer, book stalls, family activities and entertainment at the two-day residential conferences.
We will miss it visiting Hampshire!
After over 20 years of use, unfortunately we have had to make the difficult decision to decommission both GSUS Live trailer classrooms.
We give thanks thanks that 585,495 students came on board to explore the themes of fear, forgiveness and rejection through the teachings of Jesus.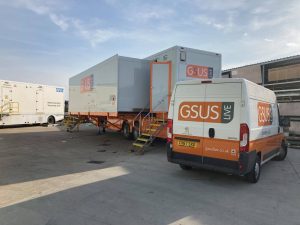 We are excited to continue the GSUS Live resource in a new adapted form. The GSUS Live trailers have been adapted to be set up within a school classroom or hall, with the use of tablets and large surround classroom wall displays. See less
Always encouraging to read , and a reminder that the text of a sermon can be a blessing to others long after the sermon was preached.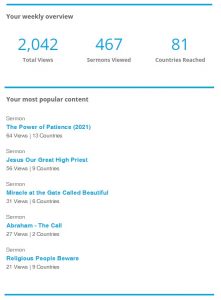 Your weekly overview: 2,042 Total Views
2,042 Total Views
467 sermons viewed
81 countries reached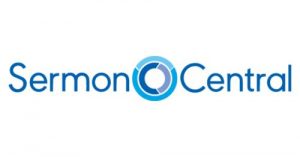 Sermon Central:
Equipping Pastors and Ministry leaders worldwide as they study, sermon prep, and share the Word. Website: Click Here