The Alresford show is a traditional one day agricultural show which combines farm livestock, horses, modern and vintage tractors & machinery, horticulture, local produce, poultry, bees, a companion dog show and many more attractions to give an entertaining day out for all the family.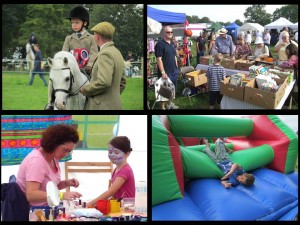 It was great to join with the fellowship from New Farm Chapel, Alresford who each year provide a Christian witness to the visitors and stall holders at the show.
New Farm Chapel set up a small marquee and tea area, where Penny & Naomi Burden were able to offer face painting to the children (and teenagers!) while I was able to provide a second hand bookstall selling a mixture of Christian and secular books.
Good conversations were had, lots of literature was taken and hundreds of books were purchased including a number of Bibles. Please pray that the tracts taken, the books sold or conversations enjoyed will prompt the start of many people's journey.
One of the leaders from New Farm chapel mentioned in an email: "There were quite a number of meaningful encounters reported afterwards and we did see one new lady in our Service this morning as a result. The other contacts that Dave (Church worker) will be following up in the coming days, so all in all there's a lot to Praise the Lord for – including the good weather"