Archive for the 'General News' Category
Great to catch up with my good friend and mentor Ivor Cooper (and his chauffer for the night Terry Osbourne) at tonight's 'The Net.'
Ivor shared about his experience of living with brain cancer – he was honest, real and positive in what he shared! Another good night for the room full of men who came along.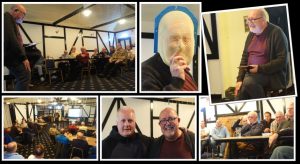 Please pray for the men gathered, when it comes to faith a real mixture, some with plenty and others with none!
Here we go again! STARTS TODAY! Rocky's Plaice Holiday Club 2019
When: This Week – Monday 8th April to Friday 12th April 2019
Time: 10.00am to 12noon
What: Quizzes, Crafts, DVD's, Bible Stories, Activities, Games and lots more! it's fun and its free!
Where: Duncan Road Church.Duncan Road Church.Duncan Road Church. SO31 1BD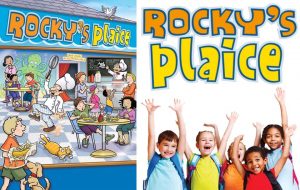 Rocky's Plaice is a five-day children's holiday club. The club is based in a fish and chip restaurant that happens to be the meeting place of a church that loves helping children learn about Jesus!
When this cafe church was established, the building was renamed Rocky's Plaice in honour of Jesus' friend Peter!
The holiday club teaches 5 stories from the book of the Bible called Acts. These stories celebrates how God established the first ever churches and the life of the church today.
GSUS LIVE in Hants.
Great answers to prayer this week as the final two schools that were approached re: the unit have said yes!
Week 1: September 4th to September 13th: Brookfield Community School. Southampton.
Week 2: September 16th to September 20th: Bay House School. Gosport.
Week 3: September 23rd to September 27th: Crofton School. Stubbington.
Week 4: September 30th to October 4th: Brune Park Community School. Gosport.
Week 5: October 7th to October 12th: Oasis Academy Mayfield. Southampton.
Week 6: October 14th to October 18h: Bishop Luffa School. Chichester.
Week 7: October 21st to 25th: Perins School. Alresford.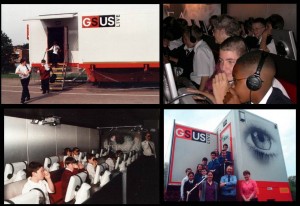 Click link to visit the GSUS Live Webpage: GSUS Live Web:
Always a thrill to see young people responding to the gospel and standing to make a public commitment to Christ!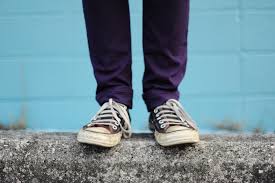 Three sessions with the Youth Group from Paulsgrove Baptist Church at the YMCA Fairthorne Manor, Curdridge, Hants. Thank you for your prayers – they were answered!
Looking forward to joining the Youth Group from Paulsgrove Baptist Church at the YMCA Fairthorne Manor, Curdridge, Hants.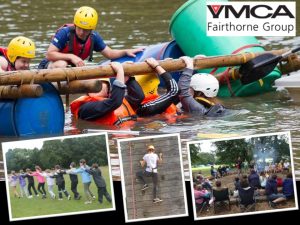 Not sure what the young people have planned during their stay, but I will be speaking at three sessions:
Friday 22nd: 8.00pm.
Saturday 23rd: 9.00am.
Saturday 23rd: 6.15pm.
Value your prayers!
Traditional Skittles Night was the activity at this months 'The Net' (event for men).
Lots of teams all challenging to be crowned champions in the knock-out competition. Congratulations to Ben, Rob & John who came out top!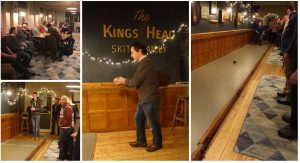 Thanks to guest Speaker Dave Aarons who gave a challenging talk on Peter the fisherman who discovered God to be the God of the second chance.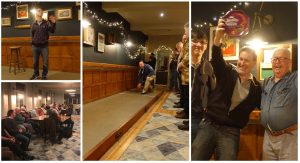 GSUS Live is returning to Hants in the September/October term 2019.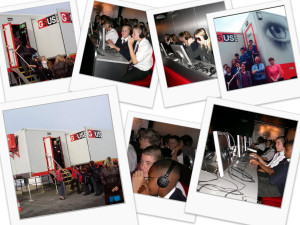 GSUS Live: Schools
The GSUS Live education units (we have two) have been used in over 800 UK secondary schools since 2000 and visited by around 500,000 students. In 2016 they were given a £150,000 upgrade. Amazingly it's FREE for your school to have GSUS Live because the visit is sponsored by Counties, and other donor partners, including a Christian grant making trust and with help from your local churches. GSUS Live is currently taking bookings for about 2 years in advance, and in most areas, demand exceeds availability.
GSUS Live is housed on a purpose-built trailer which transforms into a large interactive learning space, featuring touch screen tablet computers. The trailer weighs in at 14 tonnes and when deployed occupies an area approximately the length of 6 car parking spaces!
GSUS Live is a popular and trustworthy RE resource created by professionals. Famous public figures such as Martin Luther King and Malala Yousafzai feature in the short films which help students consider issues from a Christian perspective, the session complements existing teaching in the RE, PSHE, Ethics or Citizenship syllabus.
Our brochure gives full details of what is included in the lesson, what core skills are developed, how the lesson supports spiritual, moral, social and cultural development (SMSC), and key values. In the brochure you can also read quotes from teachers and head-teachers who talked to us about how much their schools and students benefited from GSUS Live, in both rural and multicultural areas.
Lots of fun & laughter on the final day of Rocky's Plaice Holiday Club.
Fun theme: a fish and chip restaurant that happens to be the meeting place of a church.
Bible theme: Stories from the book of Acts, that involve Peter ('the rock').
Venue: Swanfield Chapel. Chichester. UK