Archive for the 'General News' Category
We're Back online on Thursday mornings at 11.00am
FB Noah's Ark with Penny Curley
A song, a story and a craft.
An online mini-version of Noah's Ark Toddlers and Babies group which takes place each Thursday morning at Duncan Road Church – www.drchurch.info
If you have missed any episodes or just want to watch again, then all videos can be found on YouTube as well as FB – YouTube link:
Some much needed one-to-one conversations with people who want to know more or who want to 'convert' you – makes for a challenging few hours!
We should have started Good News Camp 2020 today (23/8/20). Due to Covid-19 & the camp site being closed we are going to have to wait another 12 months, so to remind you of those good, good times, a mix of photos from the past few years! See if you can spot yourself!
For those who can make it (helpers & campers), we will see you in 2021
Although most Churches we have links with in the area are still in lockdown, it was good to be preaching last night at Bethany Christian Fellowship Holbury. Hants.
Rain has stopped play re: outside meeting but we still managed to squeeze safely into the building at 6.30pm for an indoor meeting.
Always encouraging when you meet people who listen to sermons online and one lady last night commented, "Over the last few weeks your talks have spoken into my situatoin, I do not know what I would have done without them" – we praise God for the opportunity to share in peoples lives!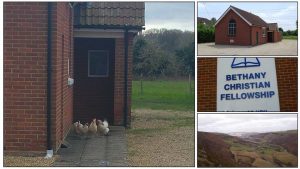 Holbury is a village in Hampshire, England. It is part of the parish of Fawley.
Historically a small and scarcely populated village, Holbury and the adjoining hamlet of Hardley now has a sizeable population and a considerable number of shops and businesses. This growth has been principally due to the influence of the Esso oil refinery at Fawley and the area's proximity to the city of Southampton.
A quick and easy explanation of what the gospel (Good News) is.
Bible verse: John chapter 3 verse 16.
Graphics: The 4 Points.
Full audio message on John 3:16: Click Here
Each Thursday morning during lockdown a mini-version of Noah's Ark Toddlers and Babies group has been live on FaceBook, consisting of a song, a story and a craft.
Now you can find all the episodes together on Penny's
FB Noah's Ark TouTube channel:
Don't forget to Subscribe and to hit the like button!
Hi Folks,
Sadly, due to Covid19, Good News Camp will not be taking place in August.
Our Camp-site Lockerley Water Farm will not be opening this summer and therefore Good News Camp will not be taking place. The decision, made by the Hampshire Christian Trust, to keep the Camp-site closed is understandable as the requirements necessary to make the site Covid-19 compliant would be impractical for our type of camp. The temporary closure will also allow the Trust to make additional improvements to the site, ready for 2021.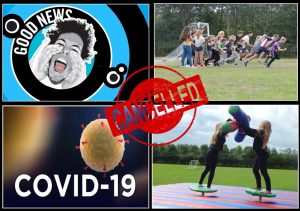 We had a great camp last year and we hope to back in action in 2021, these are the dates for your diaries – Sunday August 22nd to Friday August 27th 2021.
For those of you who have booked in & paid a deposit or all of your Camp fee, we will contact you and reimburse you ASAP.
Have a great summer and stay safe!
Join us in our weekly magazine show, as our presenters Tim C Cracknell and Aderyn Taylor-Roberts look at the theme of rest. We also speak with evangelists Kim Hobbs, PENNY CURLEY and Charissa Cooke about how they find balance in their busy lives.