Here we go again! STARTS TODAY! Rocky's Plaice Holiday Club 2019
When: This Week – Monday 8th April to Friday 12th April 2019
Time: 10.00am to 12noon
What: Quizzes, Crafts, DVD's, Bible Stories, Activities, Games and lots more! it's fun and its free!
Where: Duncan Road Church.Duncan Road Church.Duncan Road Church. SO31 1BD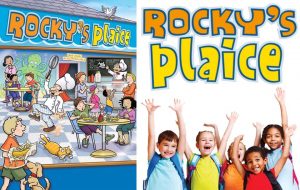 Rocky's Plaice is a five-day children's holiday club. The club is based in a fish and chip restaurant that happens to be the meeting place of a church that loves helping children learn about Jesus!
When this cafe church was established, the building was renamed Rocky's Plaice in honour of Jesus' friend Peter!
The holiday club teaches 5 stories from the book of the Bible called Acts. These stories celebrates how God established the first ever churches and the life of the church today.