The GSUS Live trailer will be returning to schools to Hampshire in September/October 2014.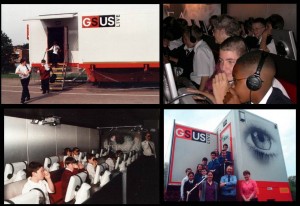 Details of the 8 schools it will visit will be announced on the GSUS LIVE PAGE when each school confirm their booking.
So far three schools have (on the same day as being approached) confirmed their bookings and four more schools want the trailer and will confirm when they have sorted out their schedules etc.
Dates for the diary:
Brookfield Community School. Southampton
Monday September 15th to Friday September 19th 2014.
Oasis Academy Mayfield. Southampton.
Monday October 13th to Friday October 17th 2014.
Perins School. Alresford
Monday October 20th to Friday October 24th 2014.