IGNITE Counties Magazine Summer 2023.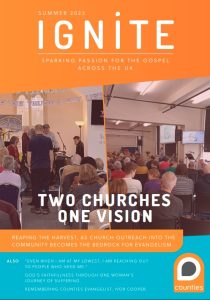 INSIDE THIS ISSUE
pages 6-7 Ignite remembers the life of Counties Evangelist, Ivor Cooper
pages 8-15 Two churches – one vision. Church outreach into the community is the priority for growth.
pages 16-17 After a childhood plagued by hardship, Counties Evangelist, Lee Marshland, is using his testimony to reach those whose lives are in chaos.
pages 18-19 "In your lowest point, God uses your bad situation to help somebody else who is going through theirs. Had I not had cancer I would not have had
the chance to meet the people I am now." Colleen Rhoden evangelises with Lee Marsland at Encounters Ministries.

pages 2O-21 Counties Evangelist, Mark Bingham, hopes a new group for families with children with specialist needs will spread the Good News and inspire
churches to think creatively.
pages 22-25 Could your church use a health check? The Church Revitalisation Project is already helping churches change for the better.
pages 26-27 Having taken part in One2Lead weekend in Cornwall in 2022, Peter Allin has spent this last year on the One2Lead TEAM programme.
pages 28-31 Senior Evangelist, Roger Chilvers, examines what the early church can teach us about evangelistic opportunities.
pages 32-33 Counties Evangelist, Paul Willmott, talks about his role in the Christian 'Together Festival 23'.

pages 34 Just a Minute with John Hardwick