and we're off! 'BodyBuilders' Houseparty 2022 starts tonight!
We are SOLD OUT with 30 teenagers and 17 leaders (and 2 children) squeezed, squashed, stuffed, scrunched, packed, compressed and jammed into variuous rooms at our Church venue!
This year is #30 yep, 1990 was the first one, I wonder how many of you out there were on it?)
I will be leading and speaking at the three main teaching sessions, on the theme, 'My Lighthouse.' In the Bible God describes himself as light (1 John chapter 1 verse 5) and Christians are asked to 'walk in the light' (Ephesians chapter 5 verses 7-14). Light/Lighthouse is our teaching theme this weekend.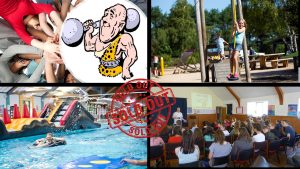 Health: We all stay healthy & Covid free!
Safety: We will be travelling out and about-  Friday night: Hengistbury Head, Christchurch. . Saturday afternoon: Swanage. Sunday afternoon: Swimming at the Poole (Dolphin) Leisure Centre. Monday afternoon: Avon Heath Country Park.
Cooks: Lou Burdfield & Maureen King will be feeding us all.
Leadership: The Moose (Mark Majnusz), Penny and myself will be leading the weekend.
Spiritual blessing: For all those who attend – we heard yesterday that on Sunday 8th May, a young person who made a commitment to Christ on our last houseparty 3 years ago will be getting baptised, PTL.