All set up at Sarisbury Junior School, Southampton and ready for Monday!
Key to Life is a cutting-edge, mobile experience, sharing the story of Jesus through a unique and immersive lesson. Using floor-to-ceiling touch screens, children can watch films, interact with games and quizzes and take part in small group discussions – helping them explore what Christians believe, and understand how the story of Jesus is the key to Christianity.
About Key to Life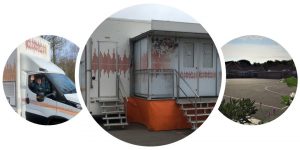 Key to Life is an award-winning mobile experience which delivers elements of the Religious Education syllabus for Key Stage 2 pupils, but is also adaptable for Key Stage 1.
The experience is housed in a purpose-built vehicle that transforms into a large interactive learning space, featuring interactive walls.
The unit is mobile and therefore requires no inside space and can visit a whole host of venues: a school, a church car park, show ground or town centre.
web: https://www.countiesuk.org/schools-work/key-to-life
Key to Life is a Counties resource that makes Jesus known across the UK through the work of our national network of evangelists, innovative schools' resources, pioneering church planters and professional training opportunities.