AM: Duncan Road Church Southampton.
Join us each Sunday back in the building or as we broadcast our All-Age Service LIVE from the Church
Activity: All Age Service.
Time: 10.30am
Subject: 'A Disaster and a Healing'
Bible Reading: Acts chapter 5 verses 1-16
Live stream Link: https://youtu.be/2vY_NWRk6B8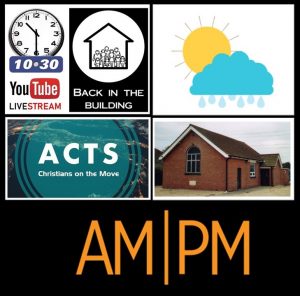 PM: Bethany Christian Fellowship. Holbury. Hants.
Time: 6.30pm
Subject: 'Coming Home!'
Bible Reading: Luke chapter 15.
Note: Outside service if the sun shines and indoor if it rains!