DATE FOR THE DIARY: 'BodyBuilders' ONLINE Easter Special!
Join Gordon, Penny & the team on Saturday March 27th for an hour of great games, great fun and some great news!
'Body Builders' is an inter-Church youth event for anyone between the ages of 8 to 15 years.
Event starts at 7:00pm and finish at 8.00pm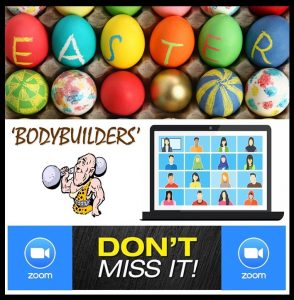 Message or email me for a password to join in the fun!
'BodyBuilders' is an inter-Church Youth event run by 'Counties' Hants: www.gcurley.info
For further info email: gcurley@gcurley.info