Hi Folks,
Sadly, due to Covid19, Good News Camp will not be taking place in August.
Our Camp-site Lockerley Water Farm will not be opening this summer and therefore Good News Camp will not be taking place. The decision, made by the Hampshire Christian Trust, to keep the Camp-site closed is understandable as the requirements necessary to make the site Covid-19 compliant would be impractical for our type of camp. The temporary closure will also allow the Trust to make additional improvements to the site, ready for 2021.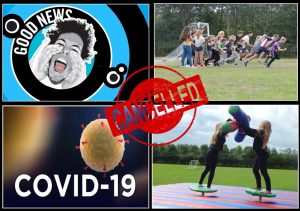 We had a great camp last year and we hope to back in action in 2021, these are the dates for your diaries – Sunday August 22nd to Friday August 27th 2021.
For those of you who have booked in & paid a deposit or all of your Camp fee, we will contact you and reimburse you ASAP.
Have a great summer and stay safe!