Gordon Curley checked into Christian Youth Enterprises, Jubilee Building, Chidham, Chichester, West Sussex. PO18 8TE
Two days at CYE…
decisions, decisons, decisons, a kayaking session in Bosham Channel or a sailing sessions at Cobnor Point?
Before I do my lunchtime Bible talk, then I head home and the young people go out on the water for another session.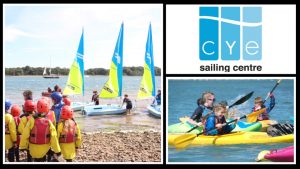 CHRISTIAN YOUTH ENTERPRISES ACTIVITY CENTRE
Transforming lives through adventurous activities since 1985.
Water and land activities for all ages and abilities. Residential accommodation on-board our purpose built 50 berth barge in stunning Chichester Harbour.
Visit cye.org.uk for more information, events, prices and bookings. Bursaries available.
CYESC is a registered charity: 293781