We came, we saw, we conquered (ok we measured up, ok Dave Thomas measured up, but I was chauffeur for the day) and apart from the odd problem or two that came our way, the visits went well and GSUS LIVE will be in these seven schools for a week during September/October 2019.
'GSUS Live' is a mobile classroom with a multimedia computer suite is the heart of the project.
It is designed to take classes of up to 32 Key Stage 3 students for a 45 minute session and provides a stimulating environment in which they can investigate Jesus' teaching on Forgiveness, Fear and Rejection.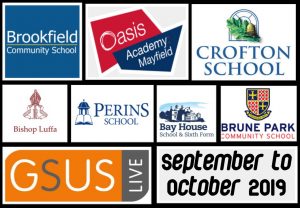 Schools to be visited in September/October 2019:
Week 1: September 9th to September 13th: Brookfield Community School. Southampton.
Week 2: September 16th to September 20th: Bay House School. Gosport.
Week 3: September 23rd to September 27th: Crofton School. Stubbington.
Week 4: September 30th to October 4th: Brune Park Community School. Gosport.
Week 5: October 7th to October 12th: Perins School. Alresford.
Week 6: October 14th to October 18th: Bishop Luffa School. Chichester.
Week 7: October 21st to 25th: Oasis Academy Mayfield. Southampton