Rocky's Plaice Holiday Club at Swanfield Chapel. Chichester. UK.
The first three days have flown by and we have just two more mornings to go, including Friday's Prize-Giving!
Although numerically smaller this year, it is still great to have around fifty enthusiastic children coming along each day.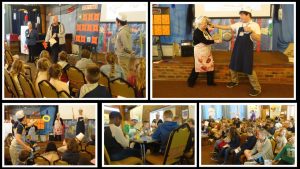 Rocky's Plaice is a five-day children's holiday club. The club is based in a fish and chip restaurant that happens to be the meeting place of a church that loves helping children learn about Jesus!
When this cafe church was established, the building was renamed Rocky's Plaice in honour of Jesus' friend Peter!
The holiday club teaches 5 stories from the book of the Bible called Acts. These stories celebrates how God established the first ever churches and the life of the church today.