Craig and Sarah are now safely in Zambia. Here's a short update from them:
We've arrived in Ndola safe and sound. It was a rocky journey back to the GLO centre where we're staying. On the first day we received a warm welcome, the Zambians such a hospitable people. We tried the traditional Zambian food calls 'nshima' as soon as we arrived, which tastes like overcooked rice. We've been involved in one of the kids camps going on this week and it's been great fun playing football and singing songs with them, they're all so joyful and free in their worship, it's heart warming. On our first evening there was a potentially poisonous snake outside our door, not to mention a crazy amount of ants in our house, it's definitely going to take some time to get used to the culture and surroundings but we're both looking forward to seeing how God uses us.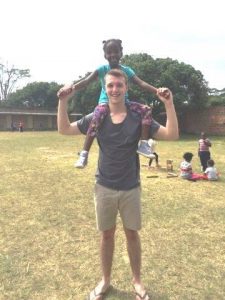 Please pray:
– we would adapt to the culture changes
– we would know God's presence with us
– we would have gospel opportunities and be able to speak truth into the young people's lives
– for our physical, emotional and spiritual protection
Give thanks for:
– safe travels
– relationships built
– this amazing opportunity we have working with GLO Zambia — with Craig Bruce and Sarah Laurenson.
FirstServe is a unique discipleship and missions programme, primarily for 18-25 year-olds on a gap year, or those with a shorter time available.
Gordon is part of the FistServe Steering Group.