Thousands of young people learn about the Christian faith through 'Counties' resources:
'GSUS Live'
had 19,418 students through its doors and is already fully booked for 2017.
'The Life Exhibition'
had over 10,000 visitors during 2016 and the calendar is nearly full for 2017.
'Key to Life?',
which was launched in April last year, had 2,700 people on board who learnt about Jesus through interactive lessons.
'GSUS Live' arrives n Hampshire tomorrow ready for its six week stint:
Gordon is coordinator for the six week visit and will be manning the expo on three different weeks. Please pray for all those involved, pupils, teachers, presenters and the assemble &dismantle crews!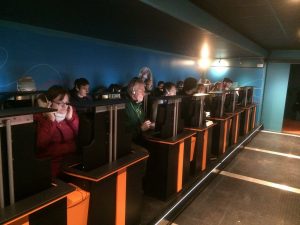 Jan 9th to 13th: Bay House School. Gosport.
Hosted by Alverstoke Evangelical Church.

Jan 16th to 20th: Perins School. Alresford.
Hosted by New Farm Chael (GC week 1)

Jan 23rd to 27th: Meoncross Independent School. Stubbington.
(GC week 3)

Jan 30th to 4th: Bishop Luffa School. Chichester
Hosted by Chichester Baptist Church.

Feb 6th to 10th: Cantell. Southampton.
Hosted by City Life Church. Southampton.

Feb 13th to 17th: Brookfield Community School. Southampton
Hosted by Duncan Road Church (GC week 3)