Hawthorn Court is a purpose built nursing home accommodating up to 80 older persons, including people with dementia. The ministers in the Fareham Western Wards take it in turn to visit the home and lead a monthly service. It was a real privilege this morning to go into the home and share a Christian service with some of the residents.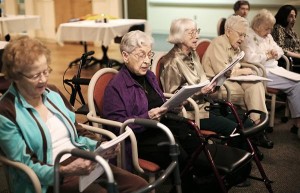 This morning about sixteen residents gathered in the lounge for a short get together. They enjoyed and participated in a hymn, some prayers and listened to two solos sung by my wife Penny before hearing a short gospel talk.
For those residents suffering with sever dementia it is hard to know how much they take in, but we trust and pray they find some comfort and encouragement in the things of God.