If all goes to plan I shall be off to Sizewell Hall, Suffolk for a weekend of Bible teaching with the Christians from High Street Chapel, Hopton. Norfolk. Our local schools in Hants have sent out email warnings saying; "because of the snow there will be a 7.30am morning decision as to whether or not school goes ahead or is cancelled" – I guess there are lots and lots of school children praying for 4″ of snow so that they can have an extra day off school!
I will battle the elements and as the Inuit saying goes, "Trust in God and don't forget to take a shovel, a flask and sleeping bag!")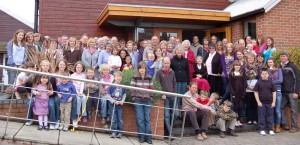 This will be my first Church weekend away with them and I would value your prayers that during the four teaching sessions God will deliver through me the right word for the occassion!