Summer is looming ahead of us, full of all the things we might be able to do during the long, light evenings or on the warm weekends.
Whatever your plans, why don't you consider spending the last few days of August (24th-27th) in the Hampshire countryside and discover the '2:42 Experience'?
Held at Lockerley Water Farm near the small town of Romsey, the '2:42 Experience' is run by Gordon and Penny Curley and provides a quiet setting for people to unwind. Campers are free to use the on-site facilities: toilets and showers, table tennis, mini snooker, volleyball, or to browse over the huge second hand
bookstall, alternatively you could of course venture out into the locality to swim, shop or just admire your surroundings.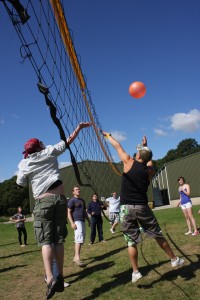 Kathryn and her two daughters from Worthing said: "It's a fantastic time for family and fellowship. A real opportunity to put Jesus back at the centre of your life. We love it!"
This year, Bob Telford will teach with worship led by John Prockter.
The weekend is a wonderful opportunity to get together with Christians of all ages and backgrounds to experience the 'teaching, worship, prayer and fellowship' mentioned in Acts chapter 2 verse 42!
There is plenty of free time for cups of tea with old and newly made friends or to do as little or as much as you like.
Ruth and Robyn Woolger, parents of 6 year old twins, appreciate the kids club which runs alongside the morning meeting. They also like Gordon's evening activities which they say are "good and lively" and make you "feel like you can be a kid again yourself'.
Nathan, from Fareham, added: "Everyone gets along with each other really well and the weekend gives us a chance to meet new people."
So, if you like the sound ofthe '2:42 Experience', then book in by clicking on 'Camps and Houseparties', and don't forget to bring some food and something to sleep in, it's a self catering weekend.
Hope to see you there!