FirstServe is a gap year programme designed to give young adults (18-25) a taste of service in the UK and overseas. Not only will they have the chance to help, support and encourage others but 'FirstServe' (www.first-serve.org.uk ) also includes a discipleship and missions training programme.
Gordon is part of the steering group and believes it is a valuable investment of his time to be involved in this project.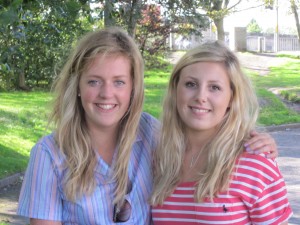 Please pray for Ally and Jade as they embark on this next phase of their FirstServe gap year.
UPDATE FROM ALLY WATSON WHO HAD JUST STARTED HER OVERSEAS PLACEMENT IN RWANDA:
"I have landed safe and sound! All the flights were good and I got fed well, even got an ice cream which I was made up with! I've been to visit a boy who is sponsored to go to school with Chrissie, and to visit some vocational training centres, I also went to see the rehab centre I will be working in this morning, I will be starting there on Monday! I am settling in ok at the moment and everyone has been very kind."
UPDATE FROM JADE IRVINE, WHO HAS JUST STARTED HER OVERSEAS PLACEMENT IN ZAMBIA:
"I have arrived in Zambia and am now at Chengelo. The journey was totally fine, my last plane was delayed a wee bit just because they were putting on extra baggage they had forgotten. Jani and his daughter picked me up and Jani then took his daughter and I to a shopping centre while he went to pick up a boy who is coming to work at the school as well. The school is really nice and the campus is huge its like a village itself and is so beautiful and all the food is all homegrown and freshly made so had homemade mango icecream and I am going to learn how to make my own yoghurt! I am not actually a house parent, I am living in a house just beside the Bournes at the moment and I am expecting a girl from New Zealand to arrive tonight who will also be living with me. However I already have four small geko (think thats how you spell it) lizards in my house as well, haha! Although I think I will be moving house a wee bit, which should be fine. I am still waiting on my timetable but I will be working with another teacher in learning support as well as P.E. and Drama so that should be exciting! So basically I am loving Zambia and Chengelo."