I have just enjoyed a fantastic holiday in Turkey, two weeks of lazing in the sunshine, swimming in the sea or pool and enjoying uninterrupted time with Penny and the children.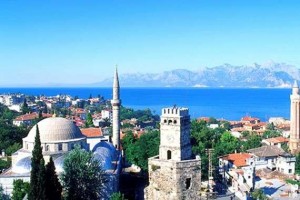 It was good on both Sunday's and to meet up with Turkish Christians in Antalya, at the Evangelical Church. Turkey is predominantly a Muslim country and Antalya Evangelical Church is the only Turkish Christian Church in Antalya Turkey. It has grown from meeting in a house to a congregation of about 150 believers, it is now one of the 10 largest Christian Congregations in all of Turkey .
I was invited by the Pastor to preach on both Sundays but only took up the invitation to preach on the second Sunday. This is not the first time I have preached abroad with a translator, but it is the first time I have preached with three armed guards placed discreetly outside the Church to protect us from any extremists.
A short while ago the Pastor of the Church needed house protection after threats to kill him had been made! This lasted for several months and the man who made the threats (and disrupted Church meetings) has now been arrested and the court case is ongoing.
So often we take for granted our freedom to meet together and our freedom to openly evangelise and share the gospel, so let's remember to give thanks for this blessing and make the most of the opportunities that come our way!
Do pray for the Turkish Christians in Antalya (and their pastor Ramazan Arkan). You can find out more about the Antalya Evangelical Church by clicking here