Archive for the 'Uncategorized' Category
'The Best Type of Stress!' Luke chapter 8 verses 19-25 – sermon by Gordon Curley
(PowerPoint slides to accompany this talk are available on request – email: gcurley@gcurley.info)

Download
SERMON OUTLINE:
(1). Jesus stresses the importance of listening (vs 19-22)
(2). Luke stresses the seriousness of the storm (vs 23-24).
(3). Luke stresses the authority and power of Jesus (vs 24).
(4). Luke stresses the response of the disciples (vs 25).
AM: This Sunday is the last of 5 Sundays at DRC before some guest speakers take over the pulpit in February (Back for March for another 4).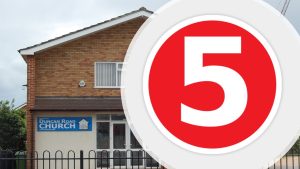 Join us this Sunday back in the building or later online:
Activity: All Age Service
Date: 30th January 2022
Time: 10.30am
Speaker: Gordon Curley
Subject: 'Grace on trial'
Bible Passage: Acts chapter 115 verse 1-41
The service will be posted later on You tube for anyone to watch.
After the madness of last Sunday, my body armour has arrived and I am ready to go again this week! Many of you know that Hatun Tash was viscously attached by a man with a knife and wounded in her head and arm, she seems to be ok and I expect she will be there as well!
I saw the man attacking her, I thought he was punching her and was unaware of his weapon, as you can see from the photos I was first in line to chase him off (not brave just stupid). A reminder that we never know what a "what a day may bring.'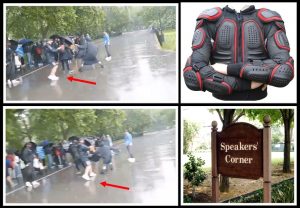 Pray for Hatun and her safety and add me to the list as we seek to share Good News with whoever we encounter.
TONIGHT: 'The Net' (for Men) ONLINE Easter Special – Face-to-Face with 'Bob the builder'
Speakers Corner in Hyde Park, London is a unique place, it is an area where open-air public speaking, debate, and discussion is permitted on any subject within the law. The topics can vary from the profound to the hilarious, and you will often find witty orators who can talk eloquently on important contemporary issues, with a pinch of humour.
The audience is free to join in too and the regular hecklers and supporters are part of what makes the atmosphere of the Corner so unique and interesting. Even if you do not feel like piping up yourself it is always interesting to listen in to what is being said around you.
Bob* is there most Sunday afternoons, he is often circled by a group of Muslims and it can feel quite intimidating, but that Bob seems to revel in it. Come and find out why .
Bob will share about his faith, his experience of Speakers Corner and also a, 'top ten things you should know about Islam' and we will finish with Q&A.

Date: Tuesday 30th March
Time: 8.00pm to 9.30pm
Zoom Link: Click Here
*Best Debate Moments of 2020 | Speakers Corner

https://youtu.be/TDEapqh-JQk