Although most Churches we have links with in the area are still in lockdown, it was good to be preaching last night at Bethany Christian Fellowship Holbury. Hants.
Rain has stopped play re: outside meeting but we still managed to squeeze safely into the building at 6.30pm for an indoor meeting.
Always encouraging when you meet people who listen to sermons online and one lady last night commented, "Over the last few weeks your talks have spoken into my situatoin, I do not know what I would have done without them" – we praise God for the opportunity to share in peoples lives!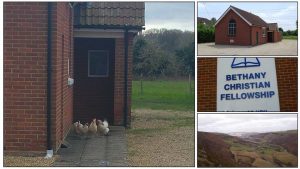 Holbury is a village in Hampshire, England. It is part of the parish of Fawley.
Historically a small and scarcely populated village, Holbury and the adjoining hamlet of Hardley now has a sizeable population and a considerable number of shops and businesses. This growth has been principally due to the influence of the Esso oil refinery at Fawley and the area's proximity to the city of Southampton.