A more mature group of men at 'The Net' tonight to hear Ben Virgo from 'Christian Heritage London' share a talk on LONDON CITY WALK – THE INFLUENCE OF CHRISTIANITY – we might not have been pounding the streets of London but we were enthralled by his stories and presentation!
'The Net' is held on the 2nd Tuesday of the month at 8.00pm.
It is an inter-church event for MEN.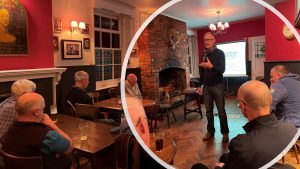 Next Month:
Activity: Skittles Evening
Venue: The King's Head, Wickham. PO17 5JN
Time: 8.00pm to 10.00pm
Guest Speaker: Paul Woodman