Date for the Diary! Men's B-B-Q IN THE WOODS
After missing out on so many events due to Covid-19 restrictions, it's good to be back with a favourite activity.
Any men welcome to enjoy good food, good company and some good news!
Date: Tuesday September 14th 2021
Venue: The Woods! (directions below)
Time: 7.45pm
Cost: FREE!
Guest Speaker: Neil Maddock
Subject: Making Sense of Life – Jesus and the fishermen (Luke 5:1-11)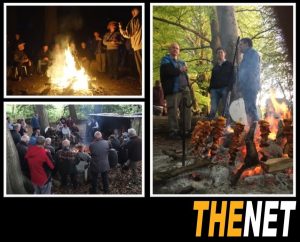 Directions from Titchfield Mill
(Bottom of Titchfield Hill on A27)
Proceed along Mill Lane for about 2.5 miles.
You will pass the following landmarks:
1). Fisherman's Rest Pub on right.
2). Funtly nursery on left.
3). Under motorway bridge.
4). Past junction with River Lane on right hand side.
5). Up the hill then down the other side).
Stop just before you see the power cables cross the road.
You will see a concrete road entrance and a padlocked gate
on the left. This is where we will meet.