Good News Camp 2016 is fast approaching and we appreciate your prayers and support for this years Good News Camp!
Dates for Camp: Sunday August 21st to Friday August 26th 2016 – book online: https://www.gcurley.info/camps-and-houseparties.php
View the Camp DVD Promo: https://vimeo.com/153671875
Camp prayer & plan evening (for those who can make it): 12th July 2016 @ 23 Abshot Road 8.00pm.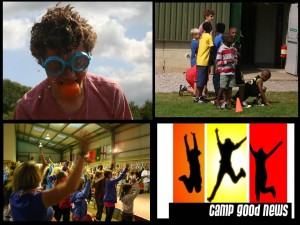 Praise for:
A good number of Campers already booked in! (The number of campers we can take depends ENTIRELY on the number of leaders we have!)
Quite a few Campers who will be with us for the first time.
A great Camp site – each year Lockerley Water Farm gets better & better!
News continues to be received concerning how God impacted lives on last years Camp – (Mark 4:26-27).
Please pray for:
For the right people to join the team and fill the various roles (if you are planning to come please book in – until you book in, we have to assume you are not coming!)
The leadership team as we plan out this years Camp.
Health & safety – accidents do happen – pray with us that any accident/health issue will be insignificant!
Unity & balancing the team – we have a variety of helpers – pray that we will al compliment each other in our various roles.
For Gordon as he prepares talks for this years Camp.
For a good spiritual time – that the week will be marked with conversions and spiritual growth.